Books
Wising Up - Life Without Regrets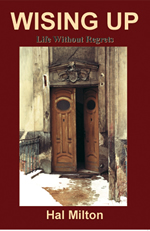 Wising Up is for everybody: the middle-aged, aging boomer, and anyone interested in Wising Up and living more consciously.
After over forty years of combined experience in teaching and creating and facilitating workshops, Milton realized that our culture's focus is primarily on recreation and prolonging life, rather than the quality of that life. He concluded that people who were willing to look at their own personal histories are better able to make changes that produce a more satisfying life without regrets.
These concepts can recreate the promise of hopefulness you may have forgotten:
Self-awareness
Awareness of attitudes and behaviors that limit and contribute to a sense that somehow life is not working.
Conscious living
Conscious living implies your choices are based on today's reality.
Awakening to wholeness
Rediscover your own wholeness and a sense of hope.
Wising Up reassures that life has meaning and instructs how to find that meaning. The book provides methods to increase consciousness and broaden narrowed perspectives. Through the author's own experience, as well as the teachings of others, you will learn the process involved in self-discovery and greater attentiveness to living.
Participate in Wising Up and live life without regrets.
About the Author
Hal Milton's extensive background in education, athletic coaching, business, and the Human Potential Movement led to a lifetime study of modalities associated with body, mind, spirit, and emotional growth, prompting an integrative approach to the relationship between them. As he approaches his eighth-decade, Milton shares his unique synthesis of practical and spiritual approaches to living a full and satisfying life without regrets.
Hal Milton is an ordained Unity Minister, author, seminar leader and Certified Advanced Rolfer and Movement Teacher. He is co-minister with his wife Sonya of InsideOut Ministries, affiliated with the Association of Unity Churches and dedicated to celebrating the inherent divinity within each person.
He is the author of Going Public: A Practical Guide to Developing Personal Charisma.
Free Preview
How can we get to enjoy those things we always thought would give us joy? Some of us may have love affairs or impulsively buy something new - a car, a house, a new article of clothing. We work harder, or we think about travel. Not that any of these things are wrong (well, possibly the love affair) - the more important thing is to know what is driving us. What is the dissatisfaction? One question kept popping up in my thinking: If these are my best years, why do I feel so empty?
Let's look at the process of aging. What happens? How does it work? How can our brains and bodies change so much during a lifetime, yet in our minds we still feel young or somehow ageless? We still think of ourselves as youthful. We may admit, "I'm getting older," but the reality, at least for me, is that I feel vibrant and will live to a very old age. I doubt that I am alone in this thinking.
Our own aging comes to us as somewhat of a surprise. We seem to fairly readily accept the physical and mental aging process - in others! I remember my father, when he was way up in his eighties, telling me what he would do in his old age - that is to say, when he got there. He did not seem to have a clue that his train had already pulled into that station.
Books are full of information dividing our lives into sections, for example: infancy, childhood, youth, early adult life, mid-life transitions, middle adult years, and elderly. We tend to accept these sectional divisions of our lives because similar thoughts and emotions arise with all people during distinct stages, even though the ages of these stages may vary from person to person. We understand that, as humans, we continue to evolve throughout the course of our lives and that each stage brings with it experiences that are important for growth leading to the next stage. What we do with the experience is more important to our well-being, self-confidence, and maturation than the experience itself.
An important aspect of our evolution is spirituality - an aspect that in our general culture seems to be somehow overlooked or given halfhearted attention. Although lip service is paid to the virtue of having spirituality, not much care is lavished on the importance of how and what we think in this regard. Perhaps this is ONE of the elements missing that keeps us from feeling full. Not the only one, but one that could be easily overlooked. So, what is the spiritual element? What does that mean?
Physical and mental aging are easier passages for us to accept because they are fairly apparent. Our spiritual journeys, however, are not so easily viewed, not concrete at all. Spiritual passages, though, are as real as the social and psychological ones that are well documented. They simply require more awareness from us to note the transitions.
Viewing the structure of the many great religions and spiritual teachings of the world - Christianity, Judaism, Buddhism, Islam, Hinduism, Taoism etc. - I see that all are rooted in the idea of progressive developmental passages.
WHERE WE START:
We can begin at any time we are ready to investigate ourselves. The process is simple, but perhaps not easy. One has to be sincere in looking at each motivation of behavior to witness where that idea came from. Did I choose this idea or belief, or was it given to me by a parent, a caregiver, society or my peer group? What causes me to believe or feel the way I do? How do I respond to that which comes into my life?
Jesus and St. Paul tell us, along with every spiritual teaching I know, to awaken; we are asleep. "Arise," the New Testament tells us over and over again, and "awake." What are we to arise or awake from? Perhaps it is from our rote behavior, our operating as if on "auto-pilot." Perhaps we need to awaken that which is already present within us, to begin exploring our inner journeys so that we may "know" ourselves.
ORDER FROM:
www.authorhouse.com
,
www.amazon.com
or your favorite bookstore or online seller.
ALSO AVAILABLE:
FREE TEACHER'S GUIDE FOR A SEVEN-WEEK PROGRAM
.
Request for a copy to be sent to your e mail.
Write:
wisingup@sbcglobal.net
Back to Top
GOING PUBLIC - A Practical Guide To Developing Personal Charisma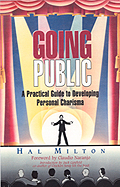 Going Public is a practical manual for developing personal charisma: the result of a conscious partnership between the body, mind and emotions. Within its covers, Hal Milton provides exercises in physical movement, body awareness and spirituality, as well as in overcoming mental and emotional blocks to performance. Incorporating examples from sports, entertainment, business and other performance arenas, this inspiring book is a step by step guide to overcoming the fear of any type of performance, developing authentic communication and increasing self-expression.

Praise For Going Public
"This wonderful book can change your life. Going Public integrates the most accessible wisdom on the body, mind and spirit connection to help you overcome axxiety and bring your creative gifts to the world."
Joan Borysenko, Ph.D. Author of The power of the Mind to Heal and Fire in the Soul.
"This is an exciting step by step guide to overcoming fear and developing active communication with the whole spiritual self: mind, body, and emotions."
Reverend Leo Booth Author of God Game, It's Your Move and Reclaim Your Spiritual Power.
"Hal Milton brings to bear on the questions of this book his 25 years as a student of the profound ways we embody our personal histories in voice, gesture and movement, combined with his long involvement as a teacher of performance. From the concrete and lively suggestions on how to enter the public world with an authenticity liberated from old fears and self-consciousness. I have always found Hals work sensitive and helpful."
Don Hanlon Johnson, Ph.D. Author of Bone, Breath, and Gesture: Practices of Embodiment. Director of the Somatics Graduate Degree Program at The California Institute of Integral Studies in San Francisco, California
"For 23 years Hal Milton has impressed and inspired me with the consistency of his search for personal essence and for effective healing techniques. Going Public documents the transformative and spiritual power of the work he employs. In this book you will learn how to free the body, mind, emotions, and spirit and realize your true self in any situation."
Carlos Warter, Ph.D., M.D. Author of Recovery of the Sacred.
"Going Public is real. From the first glimpse of the author pressing past his own fears of singing in public to the many ways we can set ourselves free, Hal Milton is there with us, holding our hand. His success stories assure us that no matter what specific issues we have with standing out and being noticed, other people with same issues already used Hals skills to get into the limelight."
Susan Collins Author of Our Children Are Watching: Ten Skills for Leading the Next Generation to Success
Order From: Health Communications Inc. 1-800/851-9100 www.healthcommunications.com, favorite bookstore or online seller
Back to Top